The Masters worked with their apprentices in their online studios since April, according to their own practices in order to cover all the different aspects of contemporary art today (sculpture, performance, installation, video, painting, photography, etc). The virtual edition of KAB20 will be online on 28th October 2020.
The following Masters are participating in this year's virtual edition:
LAURENCE BONVIN
Video | Switzerland
Laurence Bonvin is a Swiss-born documentary photographer and film maker based in Berlin and Switzerland. Her work focuses on the relations between the still and the moving image. She has closely observed transformations of natural, social, urban, architectural landscapes around large urban centres such as Istanbul, Johannesburg, Cape Town, Dakar. Exhibited and screened extensively in Switzerland and internationally, her work has won numerous awards and fellowships including the Swiss Art Award in 2002 and 2009. To this day Bonvin has realised five short films and published five publications. Her latest book and video work titled "Aletsch Negative" is based on an immersive experience on the Alestch Glacier in Switzerland, close to the place where she grew up.
Bonvin studied at Ecole Nationale de la Photographie in Arles, France and has been a professor of photography at ECAL University of Art and Design in Lausanne, Switzerland since 2002.
Artwork by Laurence Bonvin | Sounds of Blikkiesdorp, Arles, France Exhibit – 2015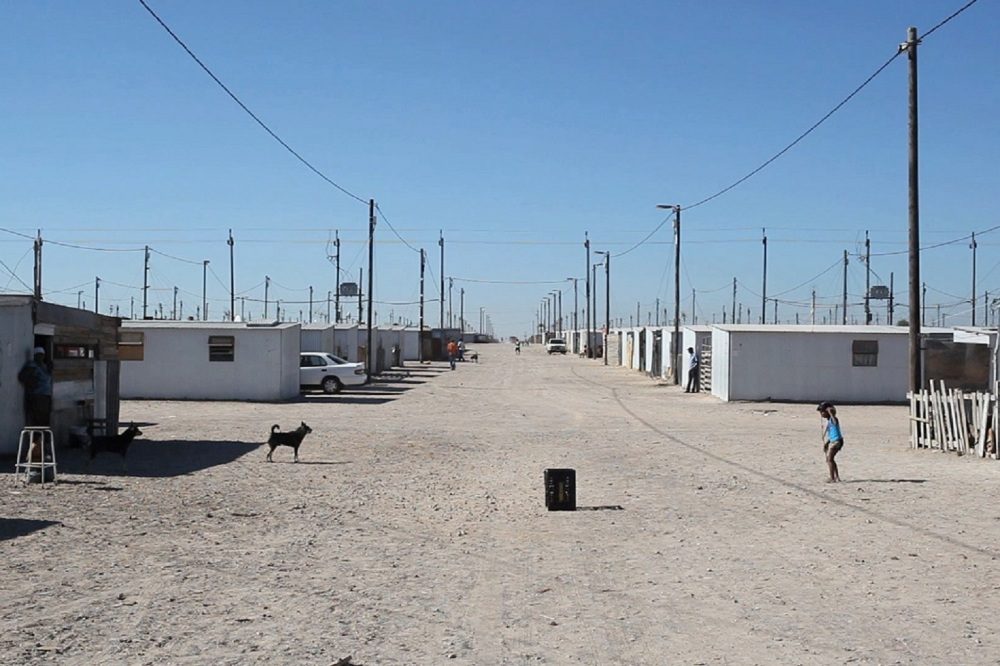 ARNAUD COHEN
Installation | France
Arnaud Cohen is a French contemporary artist, sculptor and visual artist born January 28, 1968 in Paris, France. He began his career as a visual artist in 1997 by integrating the Marwan Hoss gallery (Paris and Brussels.
At the time, Cohen's practice was all about collage, using all the existing materials, refusing to paint or carve so as to "resist any decorative temptation", as he stated. In these collages, one finds both traces of his personal life, as well as reminders, and some pornographic images.
From 2000, his work changes dramatically. These new forms emerging in his work made him considered by art critic and writer Jean-Luc Chalumeau as a "neo pop" artist.
But Cohen defines himself rather as the spiritual son of both Marcel Duchamp and Marcel Broodthaers. His concern is about maximizing his work's impact on the public. It does not seek to revolutionize forms to achieve his goal. On the contrary, he keeps on preferring the use of existing forms, considering them as an alphabet which, being already shared with the viewer, allows him to make his visual message immediately understandable.
In this respect, his practice is close to twentieth century propaganda practices used both in the 1920s and 1930s in Russia and Germany, and also in the late 60s and in the 1970s.
The artist uses his art to share with the viewer his very personal vision of today's world. Controversy is part of his vocabulary and art is there to express it. Using mythical emblems, he manages to unveil with poetry and insight the economic and social meanders.
Cohen can be defined as a post-koonsian artist, he uses the popular alphabet. The difference from his elder pair is that he uses these letters to write words; words which are his but words that can be universally shared. In this sense, he is also the heir of the Situationist International art movement and more specifically of Asger Jorn and his Modifications or Embezzlements.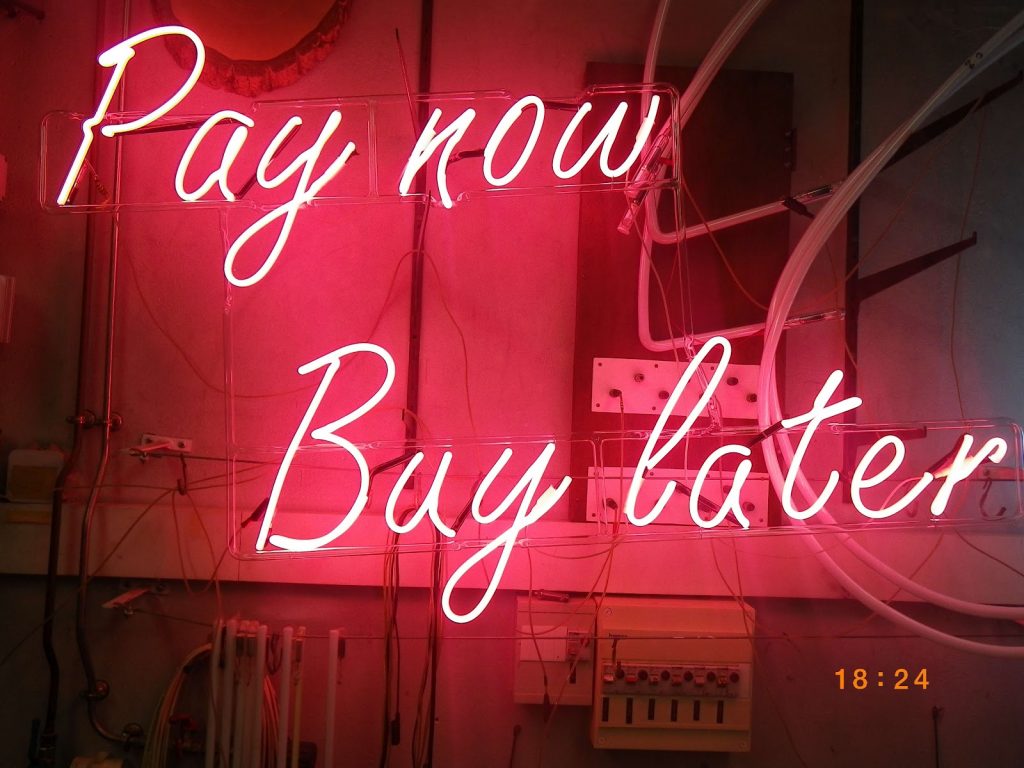 Artwork by Arnaud Cohen, 'Pay now Buy later' neon
LAVAR MUNROE
Painting, Sculpture-Recycled Material | Bahamas
The Artist-Trickster is an interdisciplinary artist whose work encompasses painting, drawing, sculpture, installation art, and a hybrid medium that straddle the line between sculpture and painting.
Munroe was born 1982 in Nassau, Bahamas where he resided in the community of Grants Town until 2004. Lavar Munroe moved to the United States in 2004 at the age of 21. He grew up challenged with a lot of stigmas and stereotypes that were associated with the community that he lived in.
Much of Munroe's understanding of such societal disparities was informed by his upbringing. This is evident in the disturbing, yet gorgeous and powerful works he creates. A graduate with a Bachelors of Fine Arts from Savannah College of Art and Design, as well as a Master of Arts in Fine Art from Washington University in St Louis, Munroe is also an alumnus of the Skowhegan School of Painting and Sculpture.
His complex, mixed-media works of art, which frequently confuse the boundaries between painting, sculpture and installation art, draw from his childhood experiences in order to explore the social stereotypes surrounding life in the ghetto.
Currently based in Washington, his vibrantly colored works of art are reminiscent of the graffiti-strewn walls and buildings of his hometown. He draws from personal experiences in order to create his art, Munroe is also heavily influenced by critical writings on mythology and literature.
One key influence is Joseph Campbell's monomyth of the hero's journey, a theory which describes the basic pattern of stages found in many mythological narratives around the world. Munroe adapts these monomythical stages, as well as the tropes of mythology, the kings, queens, heroes, villains, gods and monsters, in order to create a personal mythology which confronts contemporary society and its stigmatization of the poor.
Artwork by Lavar Munroe, Of the Omens He Had As He Entered His Own Village, and Other Incidents That Embellished and Gave a Colour to a Great History, 2017.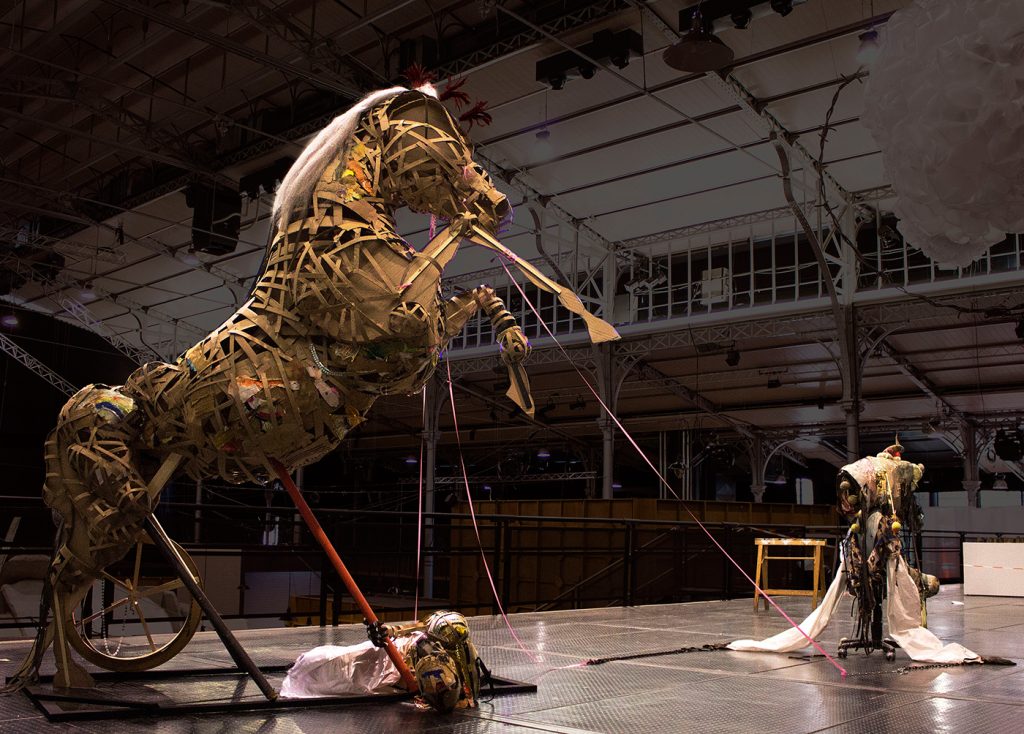 LILIAN MARY NABULIME
Sculpture | Uganda
Lilian Mary Nabulime born in Kampala 1963 is a Ugandan sculptor and senior lecturer of Fine Art at College of Engineering, Design, Art and Technology (CEDAT) and has published and exhibited her works in various exhibitions both national and international.
Nabulime studied art at the Margaret Trowell School of Industrial and Fine Art, Makerere University graduating with a Master's degrees in sculpture and later a Ph.D. from Newcastle University UK on the research subject: the role of sculptural forms as a communication tool in relation to the lives and experiences of women with HIV/ AIDS in Uganda. This academic lecturer's work is a study and response to her community with personal experiences; whether good or bad. As such, her hardwood sculptures suggest a narrative on the day to day lifestyle and behaviour of young women on university campus, her individual undertakings, but also a reaction to the subject of recycling or reusing. The sculptures often produced, particularly retain their natural form as a symbol of man's relation with nature.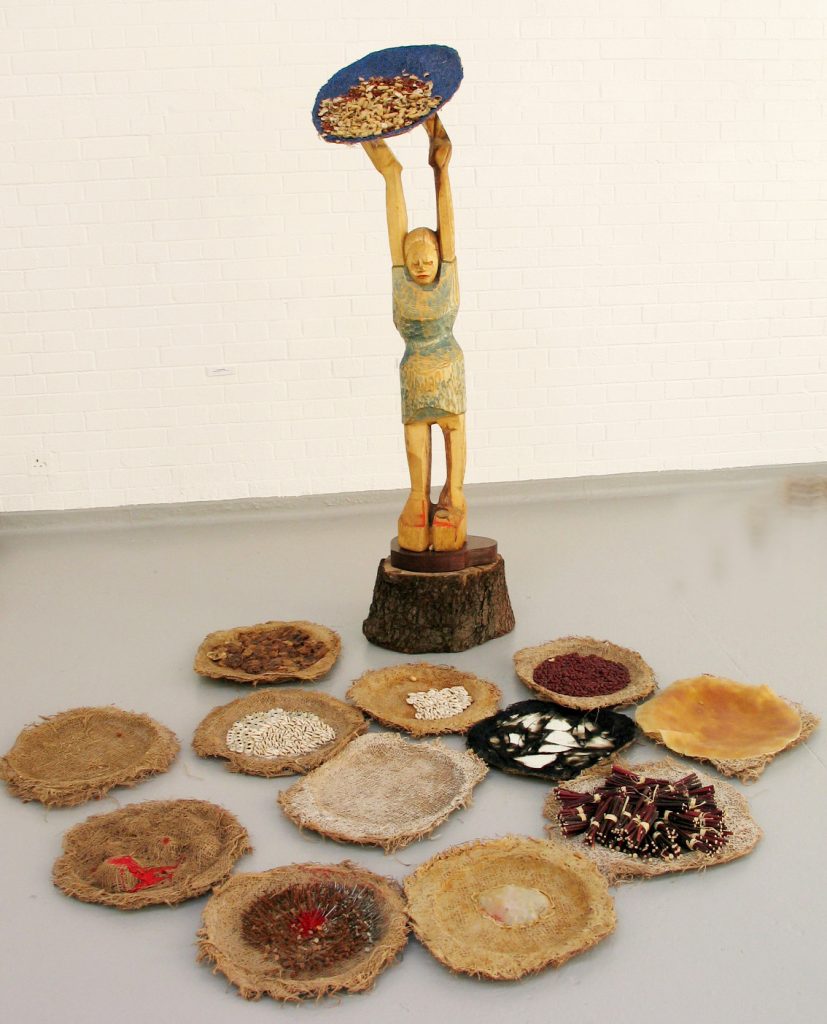 Artwork by Lillian Nabulime, Winnowing (2002-2004)
MAURICE PEFURA
Architecture | Cameroon
Maurice Pefura was born in Paris 1967 to Cameroonian parents; he lives and works in Milan. He is an architect by training but has always centered his work on painting and installations.
His research is focused on the relationship between the body and the space; that of the inner and the outer, the physical, that we are invited to share, with a particular focus on city suburbs.
Pefura obtained his diploma in Architecture from Ecole d'Architecture, Paris-Tolbiac in 1999 and has actively practiced as an artist since the early 1990s. He has received numerous awards including 1999 Cite Internationale des arts, Paris and La Source – Atelier V, Gueroulde, France.
A widely exhibited artist, his work is included in the travelling exhibition The Divine Comedy: Heaven, Hell, Purgatory revisited by Contemporary African Artists, curated by Simon Njami which opens April 7th, 2015 at the National Museum for African Art, Smithsonian Institution, and Washington DC. He in several collections including the Conseil General de l'Eure, France; Fundaçao Sindika Dokolo, Luanda, Angola; Fondation Guerlain, Paris, lettera27 Foundation, Milan, Italy and the National Museum for African Art, Smithsonian Institution, Washington DC. He presently divides his time between Milan, Italy and Paris, France.
Artwork by Maurice Pefura, The Silent Way, Roma 2018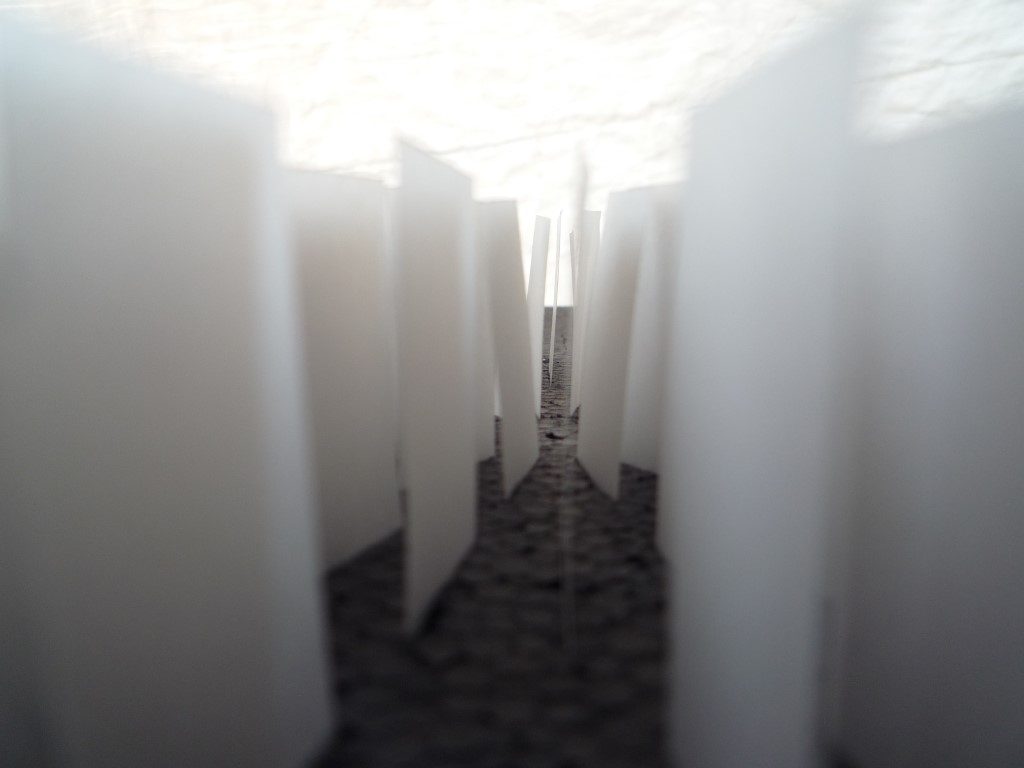 TRACEY ROSE
Performance | South Africa
Tracey Rose (b. 1974, Durban) holds an M.A. Fine Art from Goldsmiths College, London and a B.A. Fine Art from the University of the Witwatersrand, Johannesburg. Rose belongs to a generation of artists charged with reinventing the artistic gesture in post-Apartheid South Africa. Within this fold she has defined a provocative visual world whose complexities reflect those of the task at hand. Her reference to theatre and the carnival tradition also places her work in the realm of satire. As such, it consistently challenges the prevalent aesthetics of international contemporary art and post-colonial, racial and feminist issues in the wider world. Working with performance, video, sculpture and drawing, Rose places her body at the center of her practice, using the roles given to Africans, to African women, and to women in a male dominated world. Seeking to understand the source of these cultural meanings that define the human condition, Rose is inevitably led to religious myths of creation.
Rose has exhibited and performed widely both at home and internationally, including the South African National Gallery, Cape Town; Johannesburg Art Gallery; Dakar Biennial, 2000 & 2016; Walker Art Center, Minneapolis; The Project, New York; Venice Biennial, 2001, 2007 & 2019; Haywood Gallery, London; Brooklyn Museum; Tate Liverpool; Bildmuseet, Umea; Museo Reina Sofia; WIELS Brussels; Dan Gunn, Berlin; EVA International, Limerick; São Paulo Biennial; Biennial of Moving Images, Geneva; Museum of Modern Art, Buenos Aires; Documenta 14, Athens & Kassel, Performa 17, New York and the Sharjah Biennial 14.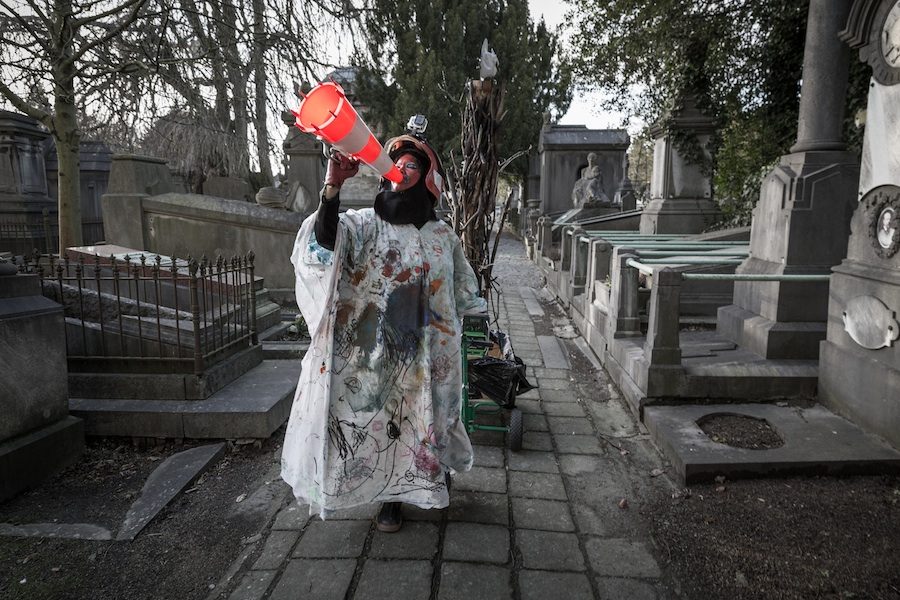 Artwork by Tracey Rose, Die Wit Man, 2015
Image courtesy of the artist and Dan Gunn Gallery, London
ANDREW TSHABANGU
Photography | South Africa
Andrew Tshabangu is a South-African photographer, born in Soweto in 1966. His photography has been exhibited internationally in various exhibitions.
Tshabangu is renowned for his surreal smoky lighting, documenting the rituals of black communities in urban Africa. Tshabangu claimed to be fascinated by the fact of photographing interiors of living spaces without the physical presence of the inhabitants.
But Tshabangu is above all fascinated by the city where he lives. He loves strolling in its streets and, like a voyeur, steals some private moments that he captures. Invisible to his subjects, he tells, as both an actor and an outsider, the daily lives of working people. In this series, it is by the outside space that he feels attracted.
In downtown Johannesburg which has witness ongoing changes, he aims de capture the fluid movements that constitutes a city's fabric. One can feel the photographer's passion in being a witness of ordinary people who, through his lense, are given pride and beauty.
Andrew Tshabangu: The Quiet South African Everyday Life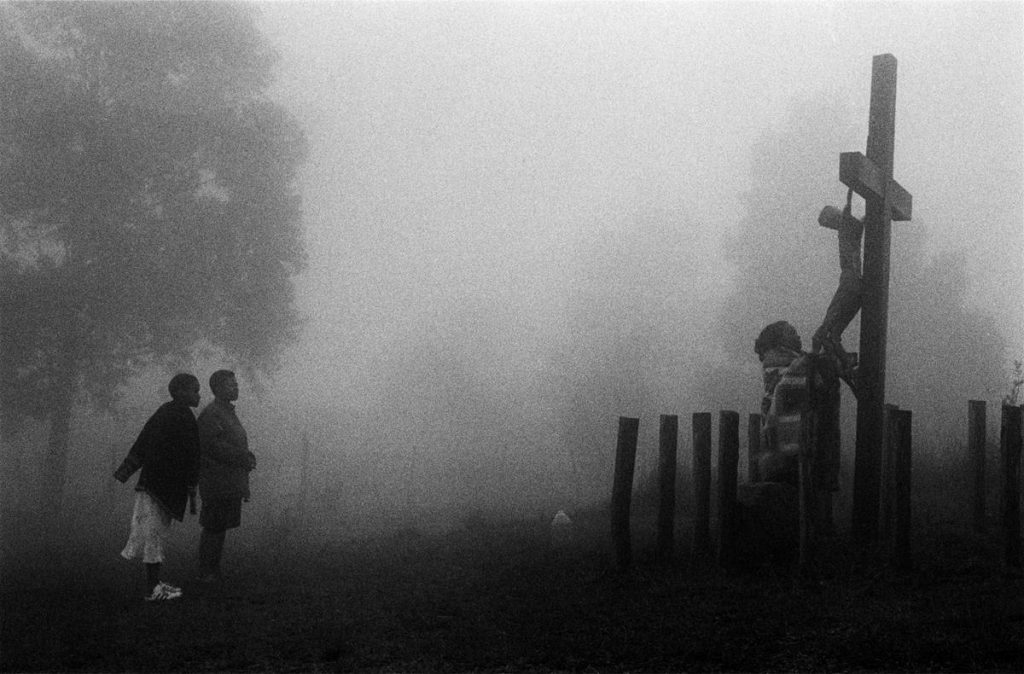 DANA WHABIRA
Lights & Sounds | Zimbabwe
Dana Whabira is a Zimbabwean artist, architect and cultural facilitator, who lives and works in Harare. An architect by training, she studied art and design at Central Saint Martin's College in London (2011).
Whabira has exhibited widely, she represented Zimbabwe at the 57th Venice Biennale (2017) and participated at the Dak'art Biennale (2018), in addition to taking up art residencies and giving talks locally and internationally.
She employs a research-focused, context-driven experimental practice concerned with space, cartography and giving shape or form to critical understandings of how we can live together. She is the founder of Njelele Art Station, an urban laboratory and project space that focuses on contemporary, experimental and public art practice.