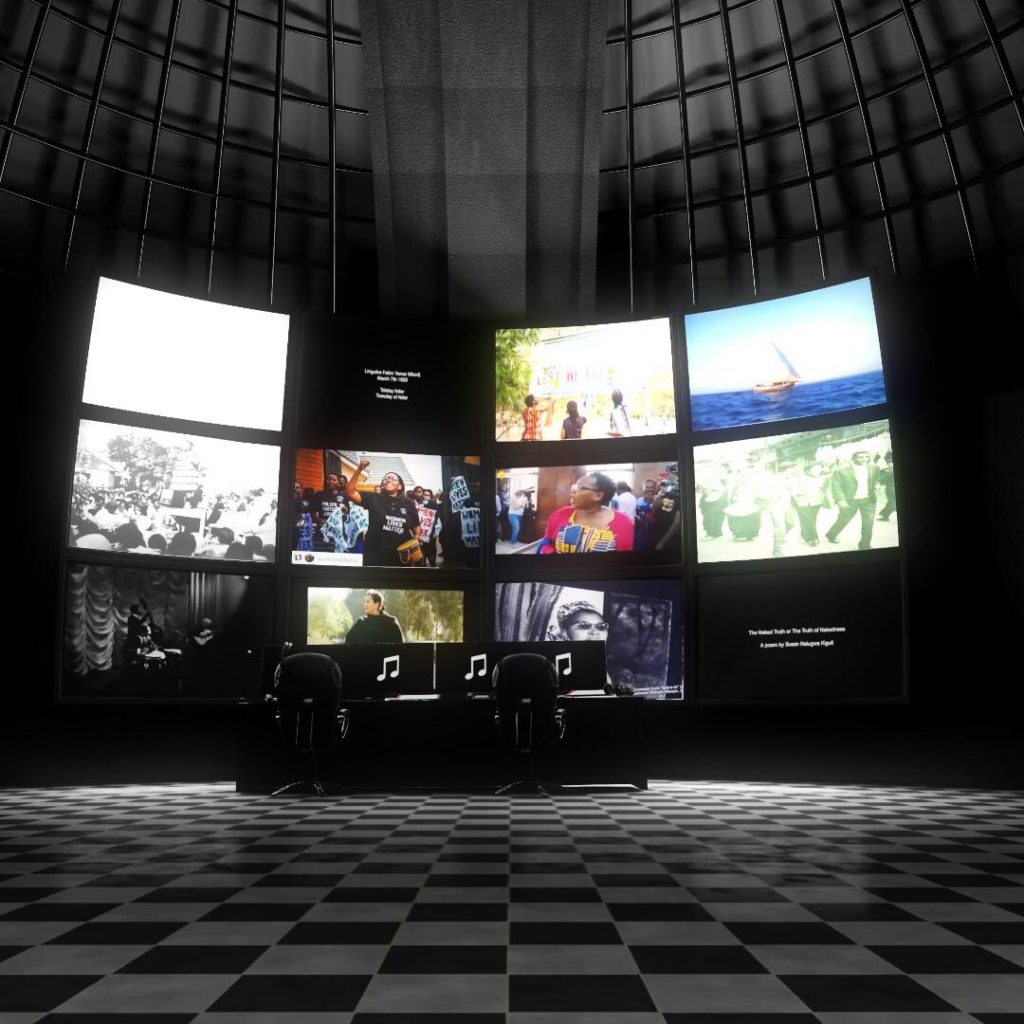 Detail of Dana Whabire's Master & Apprentice virtual studio - Half The Sky @halfthesky
Image courtesy of the artists and KAB20. Dana Whabira
Welcome to the online programme of the Kampala Art Biennale 2020.
We will kick start this year's online event with a series of recorded dialogues, online studio visits and 'behind the scenes' features.
With this programme and timeline, we present you with three weeks of content leading up to the opening of the actual virtual exhibition space to the public.
You will be able to follow all the content online on all KAB20 platforms, i.e Instagram, Twitter, Facebook, and by email when you subscribe to weekly newsletter. Our socials will be updated every day leading up to the public opening of the virtual exhibition.
KAB20 Programme Announcement




28 October 2020
Visit our social media pages and sign up for our weekly news letter to make sure not to miss anything from this virtual edition of KAB20.
Facebook: KampalaArtBiennale
Twitter: @Kampalabiennale
Instagram:@KampalaArtBiennale
Art In Kampala
29 October - 7 November 2020
Our team hits the streets where we take a look at Kampala's vibrant art scene and meet local artists and KAB alumni in their studios, learn more about their works, ambitions, and how the current state of the world has impacted their practice.
Watch out for a daily video uploads in our news section.
KAB Virtual 'Behind The Scenes'
8 - 15 November 2020
We will take the public through an online"behind the scenes" tour of the digital studio design work that has gone into the creation of the virtual space (which has surely been hard labor). We will follow Tribe Uganda based at the Studios at MoTIV as they take us through their processes of collaborating with artists, producers, and a curator to create the virtual experience that is KAB20.
Meet the UX/UI Specialist, back-end developer, gamification expert, animators, interior world creators and texturizors as they take over our socials!
KAB20 Studio Tours
16 - 21 November
The KAB20 Master and Apprentice programme opens its door to meet the different Studios spread across the world as they speak about their experiences in showing at this edition of the Kampala Art Biennale.
Online videos, one studio per day, master presentation, apprentice interviews and expect some insights into our international artist's world as the Masters will take over our socials for a day each.
Opening of the Virtual Exhibition / Experience
We welcome the public to visit our specially created online portal (accessible from this website) and experience new expressions of contemporary artworks and installations from the masters and their apprentices in an immersive virtual world.
This will blow your mind..We will not say more now. Just be with us on that very special day!