Lilian Mary Nabulime is a Ugandan born sculptor and senior lecturer of Fine Art. She is lecturing at College of Engineering, Design, Art and Technology (CEDAT) and has published and exhibited her works in various exhibitions both national and international.
The workshop concentrates on the exploration and development of sculpturing skills. It is practical in terms of studying the material, its properties, themes, techniques, tools and equipment.
Fanya Kazi is a Swahili expression to mean "work". Problems are non-selective, affecting men and women, regardless of gender. While women usually share their problems such as Gender Based Violence with others, patriarchal constructs induce men to suffer secretly, suppressing or tucking their emotional and mental problems into self-denial. Keeping oneself busy or at work is a potent way of avoiding depression, stress and anxiety.
The sculptures produced in this workshop, shown in a digitally constructed metal workshop, express those thoughts in direct or insignificant ways. Through work, we are able to have an honest reflection on the issues that affect us, purge ourselves, and negotiate new paths.
APPRENTICES IN NABULIME'S STUDIO
The following young artists have been selected and are participating as apprentice in Lilian Mary Nabulime's studio. At the moment they are interacting online through Zoom and Whatsapp.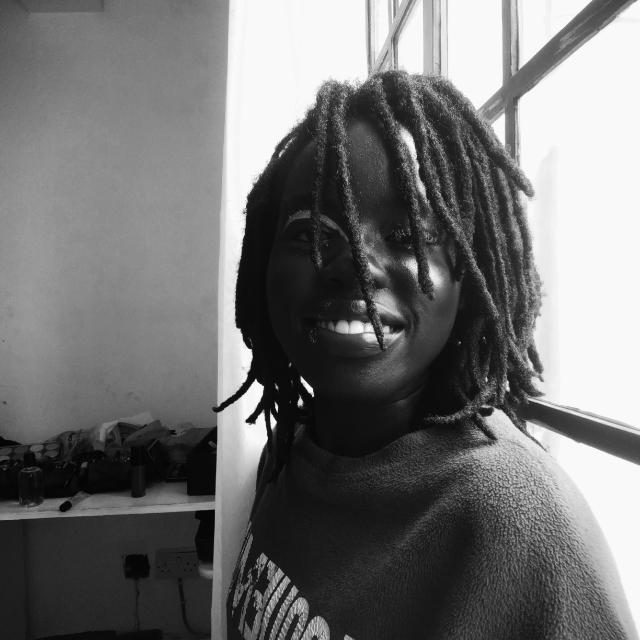 Elnah Amware is a Kenyan sculpture based in Nairobi.
ELNAH AKWARE (Kenya)
Elnah Akware, born in 1996 in Busia County Kenya, is a young, up and coming sculptor, based in Nairobi. She is currently apprenticing with Kepha Mosoti, a renown wood carving sculptor based at Kuona Artists Collective. Akware also works in dry medium, which is mostly pencil drawing. She is currently a fourth year student at Kenyatta University pursuing a Bachelor's Degree in Fine Art and Design.
Her body of work is mostly inspired by nature, culture and current trends too. Most of her carvings are hand carved and they embody humanity and its relationship with nature and how they correlate with one another. She has participated in various pop up shows, exhibitions including the Affordable Art Show 2019, at the Nairobi National Museum 2019, BSQ Affordable Art show 2019,at the Nairobi Railways Museum.
She is currently working on achieving greater heights in her sculptural career as she embarks on her professional journey.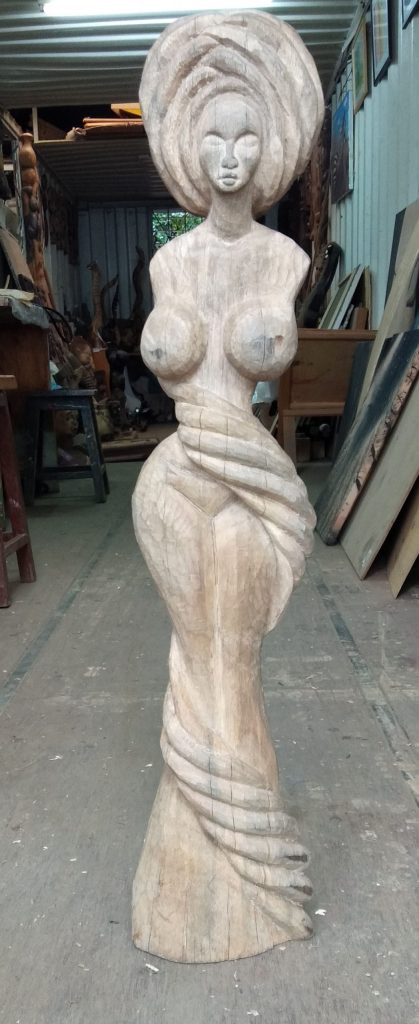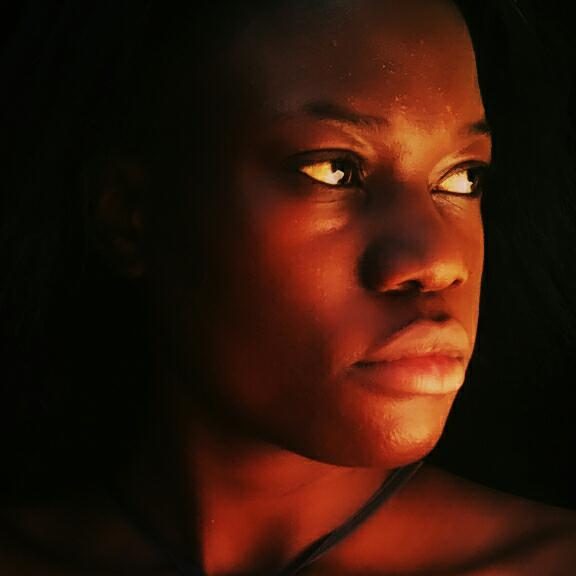 Nantongo Oliva Mary is a Kampala based visual artist, who explores various media and materials.
NANTONGO OLIVIA MARY (Uganda)
Nantongo J.Olivia Mary, (25) is a Kampala based visual artist. She paints using acrylic, oil and pastels in her work. Her art works are based on the use of found objects like fabric, weaving mats, buttons, plywood among others. She collect different media and items to create a paintings. Subjects include African portraits and murals. Olivia has a bachelor degree in Industrial and Fine Art from Makerere University. She also practices jewelry, fashion, body art and she sings as a hobby. She participated in various art workshops and a few exhibitions, currently she shows her work at Afriart Gallery, on 7th Street Kampala.
"I love focusing on women as my inspiration for painting. I paint their full figure and also do portraiture. Women are life bearers, strong and independent, they are educators and caretakers. 'A woman of love. She's a gift from above, a strength to this nation and God's manifestation.'"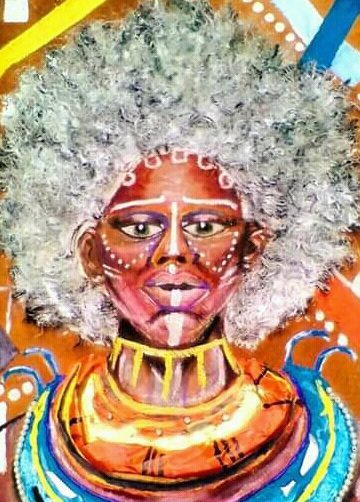 Joshua Victor Semaganda is a documentary photographer / sculptor based in Kampala
JOSHUA VICTOR SEMAGANDA (Uganda)
Joshua Victor Semaganda (1997 -) is a documentary photographer / sculptor based in Kampala – Uganda. He learnt these two artforms while studying at MTSIFA (Margret Trowel School of Industrial and Finearts) at Makerere University, where his is currently in his final year.
He rediscovered his love for photography while in his second year and it is where his interests in story telling through imagery developed.
His work focuses on the daily life of the people around him. In addition, his art is based on storytelling. He also employs the technique of storytelling through sculpture where he intends to communicate social issues through this form of art too. He is passionate about art and has a great desire to learn from his peers.
SIFISO INNOCENT MKHABELA (South Africa)
Sifiso Mkhabela is a contemporary metal sculptor. Picking up the welder and the grinder was not just an artistic choice for him, his work is inspired by his father, who is a boiler maker and that is why working with metal became second nature to him.
Drawing inspiration from his childhood memories, working with metal is hard work and watching his father work tirelessly over the years and never giving up really helped him form the solid ground that he stands on as a sculptor today. He regards metal is a medium that speaks volumes to because it is used in almost everything we used in our daily lives, metal is the back bone of our entire infrastructure.
His sculptures are distinct by his use of geometric forms and organic structures. Hybridity shines as a powerful tool of transformation and reconstruction of existing concepts to create new exciting structures. His point of view is inspired by mathematical and scientific concepts and philosophy thought by Plato where he said "The physical world is a poor decaying copy of a perfect, rational and changeless original world. " Platonism is a contemporary view that there are abstract objects that do not exist in time or space, my work is an attempt to represent these abstract objects taking from my childhood experience.