Call open from 6th January 1PM EAT, closing date 28 February 2020, 5PM EAT.
Studios Programme with Masters and Apprenties during KAB18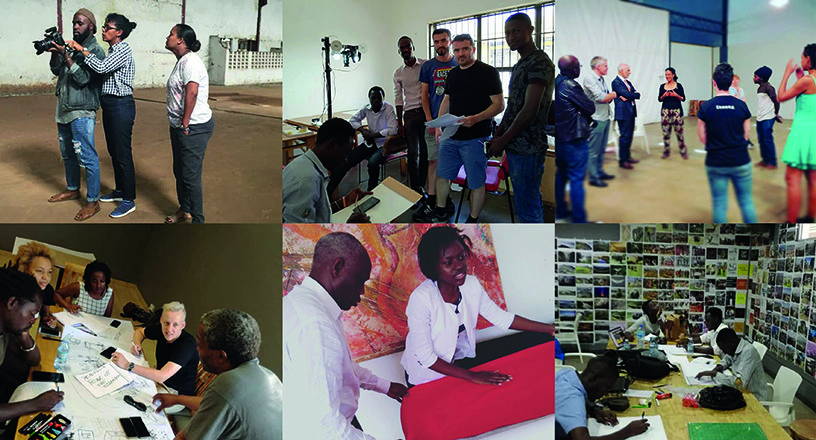 Kampala Biennale (KAB20) launches a call for young artists worldwide to participate in the studios that will be offered by the eight artists invited by Librettist Simon Njami.
The title of the 4th edition of Kampala Biennale, curated by Simon Njami, in 2020 is
KAB20 is a story of transmission from one generation of artists to the next. Unlike the common format of major biennales which historically show and promote the best of their time, as a platform where professionals and the market can come and choose the next big artist, KAB is choosing a format that vehicles our continent's original values of sharing and transferring knowledge. Thus, KAB20 will take on a master/apprentice format to allow for the transmission of artistic skill from contemporary art masters to the future generation of artists. For KAB20, Njami has invited 8 internationally renown artists to open their studios in Kampala to young Ugandan, African and international artists. The Master artists will open their studios for a 20 days period in Kampala, Uganda, according to their own practices in order to cover all the different aspects of contemporary art today (sculpture, performance, installation, video, painting, photography, etc).
///
KAB20 is a studios programme with simultaneous studio workshops that will run from August 1st to 20th, 2020, and an international exhibition that will take place from August 26th to September 26th, 2020, in the city of Kampala, with a catalogue, a symposium and the Education programme. The opening week will run from August 26th to 29th, 2020. The eight Masters Studios ( follow the link with their names to their biography)
Dates of the Studios
From 1st August - 21st August, followed by the Biennale Opening Week.
Who can apply to participate to the studios?
You are a young artist, currently training at an art school or at the beginning of your carrier

You are proficient in English

You are able to provide your own travel, accommodation and daily expenses for the duration of your stay in Kampala (or you have a sponsor)

Young artists from all over the world are eligible to apply.
How to apply?
Fill in the online application form before February 28th, 5pm EAT (form in link or below this text)
Select a maximum of two studios/ Masters of your preference (Please note that you will be selected to participate in only one studio)

Upload short motivation letter addressed to the Master you wish to work with (you can apply to a max of 2 studios) in English

Upload a short CV / Artist bio (in the same document)

Upload your portfolio of relevant work

Hit the submit button and you will receive a confirmation email from us asap.
What happens wh

en you are accepted in the programme?
KAB20 will help you by any means to support you to access external funds for your travel and accommodation e.g. by writing you an invitation letter and helping you contacting your School, or Embassy, or any funding institution you would share with us.

When you are selected to participate to the studios and consequently the Biennale, the KAB20 administration office will contact you and provide you with the necessary acceptance letter and other documents required to facilitate your visa/ travel and stay in Kampala

You will be asked to sign a letter of commitment, where you agree to be responsible for attending the workshops and studio days with the Master. You are free to decide to stay in Kampala until the KAB20 opening, depending on your own resources.

Your sponsors will have the opportunity to show their logo and the mention of their support in KAB20 communication documents (press release, programme, etc), our website and the catalogue.

You will be welcomed at Entebbe's international airport in Uganda at your arrival and departure.

You will follow the studio of the selected Master during a period of a maximum of twenty days.

The artwork(s) created during the Studio, if it's a collective project or an individual piece, will be exhibited as part of the Biennale exhibition, following curator Simon Njami's decision. This same work, with your name acknowledged, will be published in the catalogue (if produced) and online.

Simon Njami, as the Librettist of the Biennale, will select the artworks exhibited in consultation with the Masters.

The individual work(s) exhibited will remain your property. In the case of collective work, the ownership will be discussed with the Biennale, the Masters and the Librettist.